Amani, My Friend, the prototype of an interactive digital game, has won a friendly competition between master's students studying media design at the University of Design and Applied Arts of Geneva (HEAD). The competition aimed to support the development of virtual tools which foster the exchange of information on HIV and sexual health among adolescent girls and young women vulnerable to and affected by HIV in Kenya.
Programs on HIV and sexual health for young people have been demonstrated to be more effective when they engage and are led by young people themselves. Under a collaboration between the youth-centered initiative #GenEndIt, HEAD, Hivos Southern Africa and the Kenyan Network of Adolescents and Youth of Africa (NAYA), students from HEAD worked closely with young female-identified activists and community leaders from NAYA to co-develop a variety of culturally competent mobile games that address HIV prevention and sexual health needs using interactive storytelling.
Through presentations and careful deliberation led by the HEAD students and Kenyan youth activists, Amani, My Friend was unanimously selected as the winning prototype. With an intuitive playable format, this game explores the importance of friendship in the context of HIV prevention through playful mini games and heartfelt conversations.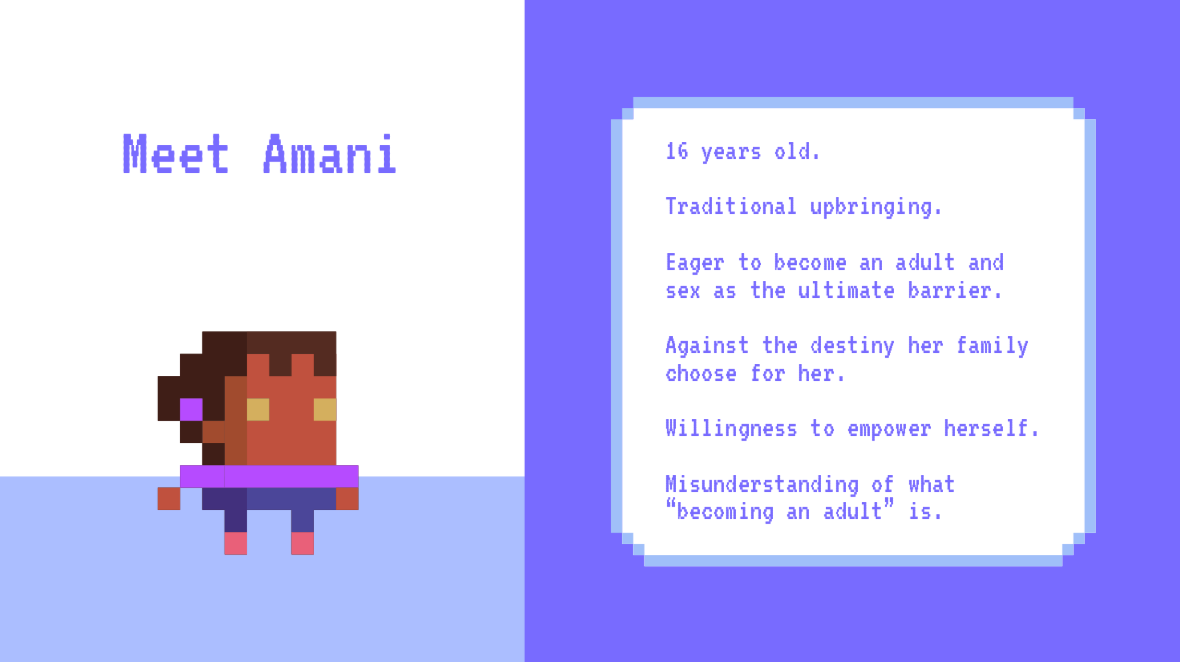 "We've been exploring playable narrations under various formats for several years now," said Alexia Mathieu, who is responsible for the Master's in Media Design at HEAD. "Storytelling is a natural interface between technology and people. We believe that when we add interactivity to it, we can address complex subjects and use the power of narrative to synthesize them into poetic forms accessible to the general public."
"Innovative multimedia and new media approaches can play an important role in ensuring young women and girls have better opportunities to make informed decisions."
Five young female-identified community members from NAYA were at the center of the collaboration, assuming an advisory role and providing expertise on the development of the tools. "Meaningful youth engagement means ensuring that young women participate on equal terms with adults, or work independently and in all stages, including program design and development of technologies that impact the health and well-being of young women and girls. The sexual and reproductive health and rights needs and voices of young women were heard in the prototypes, as well as in shaping the solutions," said Beverly Nkirote, NAYA's program officer.
Hivos Southern Africa was essential to identify the key partners and experts at the country level which will help ensure a culturally adequate and meaningful implementation. "Innovative multimedia and new media approaches can play an important role in ensuring young women and girls have better opportunities to make informed decisions about their health, sexuality and reproduction including HIV," said Chivuli Ukwimi, Regional SRHR Fund Program Manager at Hivos Southern Africa.
Through the next phase of collaboration, the partners in this project will explore further development and roll out the winning prototype with the support of local organizations, led by young people, with the aim of contributing to a culture of empowerment for young women and girls — one where they have access to the tailored empathy-fueled support they need to take charge of their health and well-being.
"Playable narratives allow us to move beyond development facts and information to create stories that can have a real impact on how people perceive complex social and health-related issues," said Douglas Edric Stanley, artist, designer and professor withing the MA in Media Design at HEAD – Geneva.